I've been working on the craft room for 1 week now, and I'm happy to report that I've made great strides.  I'd go so far as to say I'm perhaps halfway done.
The breakdown of what needed to be done (a.k.a. the project plan):
gather fabric from around the room and move it out

clean and disassemble my desk

move the drafting desk

move futon mattress (my dog's "safe spot") out of room

move armoire temporarily to inside wall

put up ledger board on closet wall

temporarily move all stuff on shelves

move shelves to closet wall

move armoire to brick wall

set up my desk

move loads of crap onto my desk

set up drafting desk

refurbish armoire

move loads of crap onto shelves

set up futon

paint top of my desk

clean out closet
organize fabric
build closet shelves
organize patterns
sort stuff on shelves/organize crap
The green & yellow highlighted steps are done.  Steps 1-9 were all about shuffling furniture to a better position.  While I set up the list to not require me to move on to the next step in a day, I was able to get to step 5 on the first day.  5 huge bags of fabric (about half of what I have?)  went out into the hallway, we're currently shuffling sideways past it to get to the bedroom.  The futon mattress ended up being a bit of an issue, we had some rather intense thunderstorms roll through, and it had to go back into the craft room until it blew over so my dog could be in her safe spot.  Rather than moving it back to the bedroom yet again it camped out in the hallway for about 5 days.  C'est la guerre.
You'll note that steps 1-9 didn't include actually decluttering and organizing the boxes/totes/baskets of crap.  In fact, it's the last step in the whole process.  I actually did not want in any way to have to stop and organize all the little stuff.  What was most important was to get the big pieces into place, the idea being that once the "bones" of the room were complete, I'd be able to utilize them to start organizing (and hopefully decluttering) all of the crap.  This has definitely proven out, now that I see what space I have to work with I'm getting some great ideas on how to organize what I don't end up purging, and how much I MUST purge in order to get things to fit in.
Scope Creep
Into every project comes a little expansion, a.k.a. "scope creep", items I noted in yellow.  When I moved the cedar fabric storage armoire to it's new home I realized it was smack dab across from the door, the first thing you see when you look in.  This armoire was a freebee, from my husband's cousin shortly after we moved into our home.  It's… how do I put this… butt ugly (IMHO).  However, it's cedar and very functional.  Here's a before shot.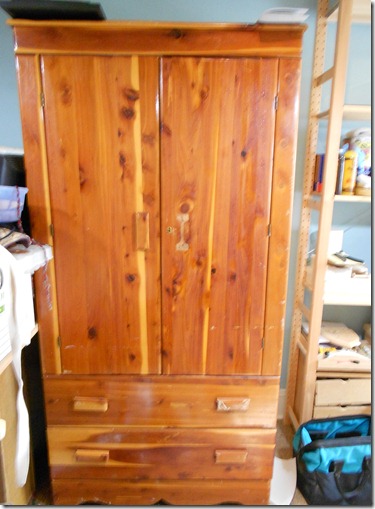 At one time it may have been stylin', but that time is I think long past.  I put it into eyesore category.  crammed into its old spot in the corner it wasn't really that bad, but front and center it needed some help.
I know myself well enough to know that if I filled the armoire with fabric and wedged it into its new home, I wouldn't want to undo all of that in order to refurbish it later.  So I inserted the task to refurbish it while there was still some wiggle room for me to be able to effectively paint the sides.  I'm so glad I did.  Some paint I had laying around, some wood filler, 4 new cabinet handles, a new door catch and some sweat equity later and here's the "new" cedar armoire.  It's a huge improvement, I think.  The paint job is not the greatest, but after it gets a few dings and scratches from regular use it'll look better.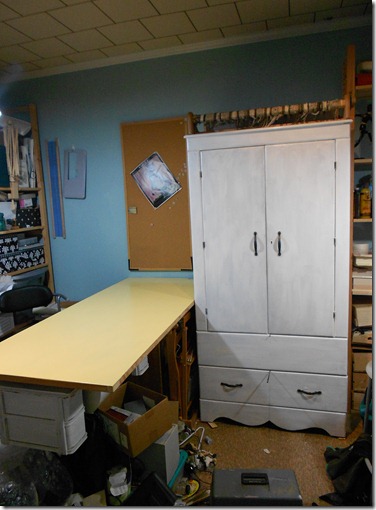 The other item not in my original plan was paint the work surface of my desk.  I got the top from Ikea, it's basically corrugated cardboard with MDF surfaces and a wood band on the side.  It's sturdy and very workable, but it really does require some sort of protection from wet.  Since I bought it I have put several cup marks on it.  Again I could have chosen to just say I'd do it later, and put all my stuff on it, but then it wouldn't get done.  Again using paint I had laying around, I painted the desktop.  I love the yellow, which was always a defined accent color in the room.  This was left over from painting a pipe in my office re-do.
Total effect of scope creep has been about 3 days delay.  However, I think the outcome was worth the delay.
At the end of week of quite a bit of effort, the only thing that's actually come out of the room was one giant trash bag full of trash.  But the bones of the room are now in place.
Next step:  organize and declutter fabric collection.  I've got ideas for whom to give stuff I don't want anymore.  Fabric is definitely a large portion of the clutter and is keeping the closet door from closing.  Now that I have a nice new desk area, I can use it to sort all this fabric.