This will be a part of my "Catching Up" series, where I post things I have completed over the past year or so while I was ignoring my blog.
I was so happy when we bought this house, and I would have a guest room for the first time.  I had 3 bedrooms in our previous house, but between the craft room and the office, there was no actual place for a guest except the attic or the couch.
Here in the new house, I set up our spare bed frame in the spare room, and bought a good mattress for my mother for mother's day, so she would have someplace comfortable to sleep when she came to stay (she bought me one for my birthday the following year, it's down in Arkansas for when I come to visit).
My father and stepmother moved to a senior community near me this past year.  As a part of downsizing, my stepmother asked me if I wanted the oriental rug that had been in her dining room.  I said sure, thinking I could certainly find a place for it.  I soon determined the spare bedroom (or Guest Room) would be a good place to put it.
Except that it clashed with the baby blue wall-to-wall in there.  So, I'd need to take up the rug.  The floor underneath was in pretty rough shape. Aside from the obvious wear, the last time it had been up people obviously knew they were covering it, so they got lazy and dripped paint all over it.  And didn't cover the floor under the radiator when they spray painted it.
Obviously that meant I would have to refinish the floor. (Obviously, you know. Because I can't leave somewhat well enough alone.)  So, off to Home Depot I went, and rented a floor sander and bought big giant super rough sanding pads.  And I sanded.  And sanded.  And sanded.  For hours and hours, and after all that sanding, I had this: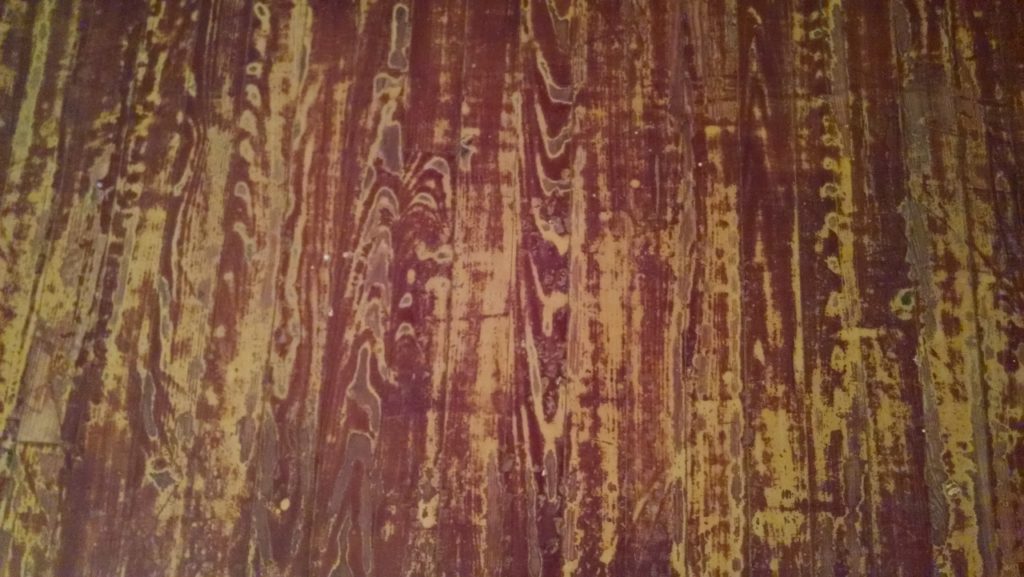 If you think that looks terrible, it's because it does.  Old wood putty that had been worked into the cracks kept gumming up the sanding pad.  I had to stop every 5 minutes and scrape it off with a putty knife or the sanding pads just stopped contacting the floor.  And still, I couldn't get even remotely close to a stain-able surface.  In between the raw wood and the reddish overcoat was this layer of tan opaque stuff.  I thought perhaps it was really old shellac, and tried softening it with mineral spirits.  No such luck.  Finally, I realized it may in fact just be tan paint, and the beautiful rich color on top was possibly many coats of shellac.  In houses built in the early part of the 20th century and before, it was common to put good wood floors in the first level of the house, but cheaper wood floors upstairs.  Those cheap upstairs floors would then be painted.
In a eureka moment, I realized I could just paint them again.  It's a farmhouse, and the painted floors just…fit.  Problem solved.  Back to home depot to return the sander and buy floor primer, floor paint, and polyurethane, and brushes, and a polyurethane pad, and painter's tape, and… and… and…
I started pulling the colors for the room from the oriental carpet.  The outline of the figuring was in a deep dark blue, which I thought would work very well as a floor color and set off the carpet nicely.  While the paint chip is a midnight blue, the floor in sunlight is lighter.  But a pretty color and one that coordinates well, nonetheless.
After two weeks of constant effort, Floor finished and ready for the furniture to come back in from the hall. And looking absolutely fantastic, if I do say so myself. Many others have agreed, it's really a fantastic floor in color and style.
You DO need to be careful with painted floors. Put felt feet on your furniture. I mean, ALL of your furniture. And use a high quality carpet pad.  But other than needing to keep a small can of the color around in case of touch ups (which I have done exactly none so far, knock on wood), it's pretty sturdy.