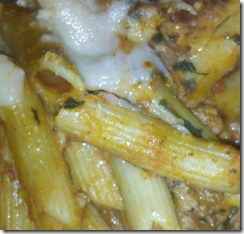 While I love to cook, I'm like most people where I don't like to cook every night. Leftovers, in general, are not a great option. My husband grumbles at the mention of leftovers, though he's getting better. My father always refused to eat them, and still does. But if I'm not gonna cook, and we don't want leftovers, that means eating out. Which can break the budget quickly if we're not careful.
Enter "divided cooking". Divided cooking is a term I use to describe making a dish to a point where there's not much left to do, and dividing it into separate containers to freeze and finish at a later date. There's probably an actual name for it I've never heard. The point is to end up with a product that tastes as if it were all put together today, and can't be classified as a "leftover".
One of my favorite recipes to do this with is my Beef Penne recipe. The original is "baked rigatoni with beef" from Cooking Light Magazine, I have modified it a bit to suit our tastes, adding whole wheat pasta, changing to a smaller noodle, and adding spinach just so there's some vegetable to it. I always make a double batch of this recipe, which gives us a big dish for Friday night game night where we feed two or three additional people, and three additional meals for two that I can dish into lidded pyrex baking dishes, then just take out of the freezer in the morning to defrost and pop in the oven for dinner. If you're cooking for one, you just use smaller baking dishes and reduce the time by 5 minutes or so. I love my pyrex glass baking dishes with the plastic lids, they're worth every penny. I bought one at a time in different sizes and now have almost enough to cover our needs. They have new ones now with glass lids as well as plastic, so you can reheat with a glass lid in the oven or microwave and avoid toxins from heated plastic.
You can also do similar things to this with beef stew. I cook up until the point where I would make the roux and thicken the stock. Instead of thickening, I separate and freeze the stew. Then I defrost it, heat it up in a pot, put it to the side, make the roux and combine. It doesn't taste like leftovers, but the meat is definitely more tender like second day stew which is great.
Ingredients
4 cups tomato sauce (I use jars of spaghetti sauce like 365 roasted red pepper or roasted garlic)
1 lb ground round (I like to use 90%-95% lean, you can also drain or rinse with hot water if you need to use a fattier meat for cost or availability reasons)
4 cups cooked whole wheat Penne (I use 365 brand whole wheat penne, which has a nice flavor without being gritty)
1 cup or so of frozen chopped spinach
1-1/2 cups shredded part-skim mozzarella cheese, divided
1/4 cup grated romano (or parmesan)
Instructions
Preheat oven to 350.
Cook penne until al dente. Drain.
While penne is cooking, cook beef in skillet over medium high until browned, stir to crumble. Drain if using less than 90%.
Heat spinach in microwave until warm. Squeeze to strain through cheesecloth or paper towel until moderately dry.
Crumble spinach on beef and stir in to distribute.
Stir beef/spinach mixture, penne, tomato sauce, and one cup mozzarella together until combined. Spoon into glass baking dishes (single batch makes 11×7″ pan worth).
Top with remaining mozzarella and romano.
Bake for 15 minutes.
If I baked the original and then tried to reheat it, it would taste like leftovers. By leaving the last step until the day I want to serve it, I have a fresh dinner in 15 minutes.
Bingo. Leftovers that aren't left over.